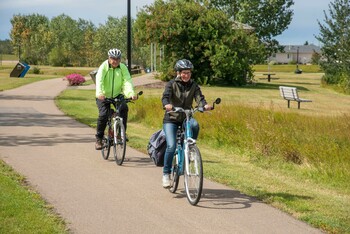 Stettler is a vibrant community offering its residents a full range of amenities. It is truly the people that make us the "Heart of Alberta". For Stettler and Area residents the municipal governments of the Town of Stettler and The County of Stettler provide essential services such as infrastructure needs and emergency services.  For more information concerning most needs of area residents, please consult the websites for these municipal governments or contact them directly.
In cooperation with these two municipal bodies of government The Stettler Regional Board of Trade and Community Development oversees and helps to promote economic development and welfare in the region and promote community and area based tourism initiatives.
The Oil & Gas and Agricultural industries are at the core of the Stettler area's economy.  Stettler serves as home to many major supply and service companies geared towards these industries.  There is also the continuing push to promote small local businesses in all economic areas, as well as local tourism, in an effort to promote greater economic stability for the region.
Tourism in the region is also alive and well, with the Town and Country Museum and Alberta Prairie Railway Excursions, as well as campsites such as Ol' MacDonald's Resort and the breathtaking Buffalo Lake being large tourism draws for the region.
For more information about the Town of Stettler and the amenities our community has to offer, visit the Town of Stettler website at www.stettler.net.