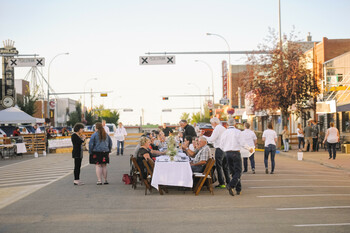 Stettler is located in the "Heart" of central Alberta, at the junction of Highways 12 and 56.The people are what make Stettler stand out. Our community is complimented with passionate go-getters ready to work. Be it on the job or volunteering after-hours, the residents are here to make things happen. Our community values taking care of one another and ensuring a prosperous and sustainable future for generations to come. It is not uncommon to see business owners, managers and families collectively work towards a common goal such as updating equipment in the Stettler Hospital and Care Centre, building new playgrounds, hosting the Alberta Scotties Tournament of Hearts or banding together to help a family who has fallen on tough times. We get the big picture.
Just 80 kms west of Red Deer, Stettler is only a short drive to either Edmonton or Calgary (190 kms, and 225 kms, respectively).  Drumheller is 100 kms south of Stettler, which boasts Canada's largest dinosaur museum, the Royal Tyrell Museum.  To the north, the city of Camrose is only 84 km away. This location not only gives the Town of Stettler easy access to virtually all of the services and amenities that the province of Alberta has to offer, but Stettler's location makes it the economic hub of East Central Alberta. This trading area extends from the community of Alix in the west, all the way along the Hwy 12 corridor to the Saskatchewan border.  Being the hub of such a large trading area means that Stettler is home to many city style amenities, while still maintaining a small town character.
The oil & gas, and agricultural industries are at the core of the economy in the region.  Stettler serves as home to many major supply and service companies geared towards these industries.  There is also the continuing push to promote small local businesses in all economic areas, as well as local tourism, in an effort to promote greater economic stability for the region.  
The Town of Stettler boasts a full range of essential and emergency services, with the local RCMP detachment, Hospital, Ambulance Service, and volunteer Fire Department being at the core of these. Our local hospital is able to provide short day surgeries including scopes. There are two medical clinics in town, as well as two optometrists, three dentists, and several chiropractic, physiotherapy and massage clinics.  Stettler also has a nursing home, and several senior's retirement homes.
Stettler's small town attitude also means that Stettler boasts a low crime rate, as well as a laid back, small town life style.
For more information about the Town of Stettler and the amenities our community has to offer, visit the Town of Stettler's website.
For more information or enquiries on investing in Stettler please contact:
Leann Graham
Director of Planning and Development
Town of Stettler
 403-742-8305
Angela Stormoen
Planning and Operations Clerk
Town of Stettler
 403-742-8305