The Town of Stettler is a safe and vibrant community that boasts a population of 5851*, with the surrounding County of Stettler population being 5343*.
The dominant industries in Stettler include agriculture [ranching, grain and mixed farming] and a strong representation from the energy sector. The local agricultural industry's diversity includes all major grain crops along with cattle, hogs, poultry and honey.  The energy sector is represented by several companies involved in all aspects of exploration, production and manufacturing services.  Both the agriculture and energy sector industries support a large complement of related service and supply businesses within the community.  The prosperity of these industries create an excellent base for value added products and services.
Stettler's central location offers excellent highway and rail transportation connections, which along with an excellent water supply and affordable industrial and commercial land available, make Stettler a viable choice for firms looking to expand or start up new business opportunities.
Stettler serves as a regional hub to a large trading area that supports a very strong local trade and commerce industry including such major retailers as Wal-Mart, Canadian Tire, Sobeys and No-Frills.  These larger entities are complemented with a wide variety of successful independent merchants who provide many of the goods and services found in larger centres.
Professional services offered in Stettler include all avenues of legal, accounting and financial institutions.
Stettler boasts a significant contingency of utility, government, health and educational professionals employed within the community. A full range of health care, educational services and a full complement of excellent senior's lodges, adult living condominiums and modern long term care facilities are all available in town limits.
Culture and recreation play a vital role in the Stettler community.  The Stettler citizens are extremely proud of their modern facilities that include a performing arts theatre, leisure pool and fitness centre, twin arenas, sports parks and an excellent park and trail network.  Stettler's central location and fine facilities make it a perfect location for conventions and tournaments.
Tourism is also an important player in Stettler's economy with Alberta Prairie Railway, the breathtaking Buffalo Lake and various sports tournaments throughout the year. Stettler is also one of the main gateways to the world famous Canadian Badlands to the south.
*Stats Canada 2021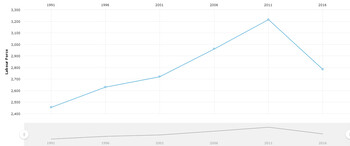 Stettler had 2,785 people employed in 2016, precipitously declining -13.4% from 3,215 in 2011. The health care and social assistance segment had the largest increase over last five years, increasing 21.2% to 400.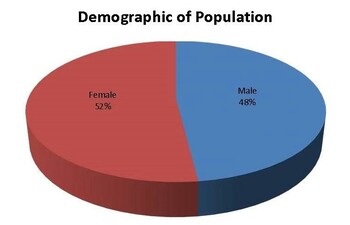 Stettler had a population of 5,851 in 2020. The population of Stettler declined -1.66% year-over-year, and decreased -3.77% in the last five years.
For more information on Stettler, visit the Government of Alberta Regional Dashboard.
LocalIntel Community Profile Frameset