Moonlight Madness
It is the "un-official" kick-off to Christmas – Moonlight Madness! Get into the holiday spirit with the lighting of the main street tree, late night shopping featuring special promotions and door crasher deals, tons of entertainment and fun throughout the town and even visits with the Santa! Plus, earlier in the day, we will be hosting the Early Bird Cash Card Draw for $100 Heart of Alberta Dollars!
Main Street Tree Light Up
Join Mayor Sean Nolls and the 2021 and 2022 Citizens of the Year as they "unofficially" kick off the holiday season with the annual tradition of lighting the Main Street Tree at 6:00pm!
In order to keep our celebrators safe, there will be road closures in place throughout the evening. 49th Avenue will be permanently closed between 3:00pm and 9:00pm, east to west from the alley behind TD Bank to the alley behind Home and Hobby. A temporary closure will be put in place on 50th Avenue from 5:30pm-7:00pm from north of the crosswalk between Consignment Closet and Westland Insurance to south of the crosswalk between Heartland Medical Clinic and East to West Lifestyle Pub (see map).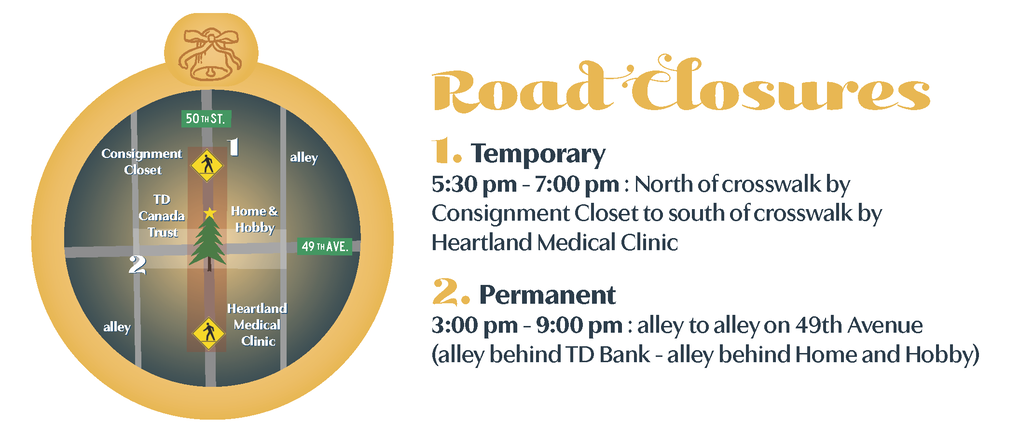 ---

Sweet Treats!
Warm up around the tree with ATCO Electric!
Staff and volunteers will be serving warm goodies to heat us through to our toes all in support of the Stettler Food Bank! Don't be late, they sell out fast!
---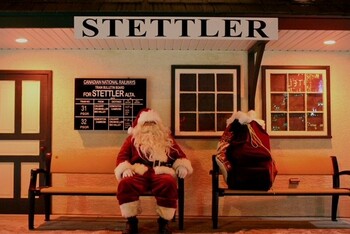 Visit with Santa!
Whisper your lists direct to the "Big Guy" himself as Santa makes a stop to our community!
Leaving his reindeer at home to rest, Santa will be swinging by our Main Street to celebrate with the community and check his lists of those who are naughty and nice! Making sure he has the correct desires from kids of all ages, Santa will be welcoming visits on Main Street following the tree light up until 7:00pm and then will make his way to Stettler FCSS (4720 - 50 Street) to continue his visits until 8:30pm.
---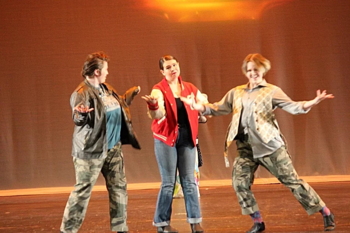 Dance Mobs
Watch in awe or join on in with the talented dancers from JD's Academy of Dance Synergy as they perform Dance Mobs throughout the evening of Moonlight Madness! Kicking off the evening at the Main Street Tree upon Santa's arrival, the Dance Mob crew will perform at the Main Street Park, weather permitting, throughout the evening. Get out and tap your toes to the music and jump on in an show us a move!
Schedule:
Main Street Tree- 6:15pm
Main Street Park- 6:45pm, 7:15pm, 7:45pm
Dance Mob will perform at the Stettler Mall if inclement weather.
---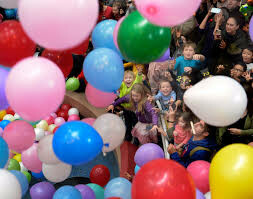 Think Local, Shop Stettler Balloon Drop
NEW this year! Nostalgic for days gone by, Think Local, Shop Stettler businesses are bringing back the infamous Zellers balloon drop for Moonlight Madness!
Following the Main Street Tree light up, participating businesses will carry on the fun by offering the chance to WIN some action packed discounts, prizes and give aways!! Chosen at random, up to 30 lucky contestants will stand side by side taking part for a chance to grab a balloon or two filled with discounts, bonus offers, instant win prizes and more! Offers vary in each balloon and will be valid for the evening of Moonlight Madness only.
Balloon drop will be held at 6:30pm at the Main Street Tree.
Contestants will be randomly chosen from onlookers at the tree light up.
Open to ages 18 plus. Waivers required to participate.
Discounts and offers are valid for the evening of Moonlight Madness ONLY.
Our thanks to Heartland Industries for partnering with this community event!
---
Family Christmas Pictures
Gather the family and get your annual picture with Santa sponsored by the Stettler Family and Community Support Services (FCSS) during Moonlight Madness! Book your appointment between 10:00am and 6:00pm and cross another tradition off your list. Photo's provided by Image Obsessions. Bookings can be made by calling 403-742-2337 or by visiting the office at 4720 - 50 Street.
---
Christmas Clothesline
Spread some warmth this year by helping Julie Greiner, Realtor as she hosts the Christmas Clothesline! Bring your new or gently used coats, touques, mitts and scarves which will be passed along to the Stettler Coats for Kids program and help make sure everyone stays warm this winter. Drop off will be open during Moonlight Madness from 3:00pm - 8:00 pm at 4937 Main Street (Lower Level of Gilbert Financial).
For information on receiving a donation, please contact Julie at 403-866-9591
---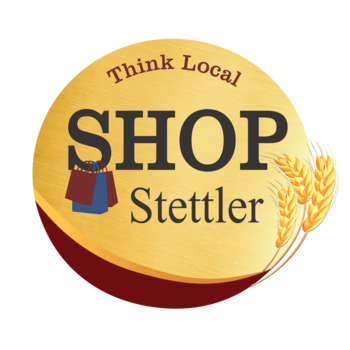 Late Night Shopping!
Join as participating businesses open their doors for you to kick start (or finish) your holiday season shopping with special promotions and door-crasher deals at many locations! From getting gifts for everyone on your list to stocking up on the necessities, shop local this holiday season! And don't forget to enter for your chance to WIN with the Think Local, Shop Stettler Cash Cards promotion!
ALL ALBERTA HEALTH SERVICES GUIDELINES MUST BE ADHERED TO
PLEASE DO NOT BLOCK SIDEWALKS OR WALKWAYS

Other Community Events
Many other local businesses and organizations will be taking part in Moonlight Madness. Make sure to share in the merriment of the evening and Think Local, Shop Stettler!